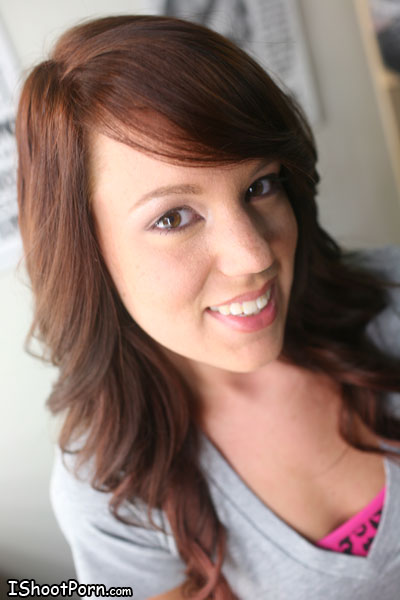 I Shoot Porn
: What were you up to at the beginning of the summer?
Lizzie Tucker: I was graduating high school. I'm from Dallas, Texas.
ISP: I lived in Dallas for a while. Weird, weird town. I used to go to this weird flea market under I-35 that started at, like, 3 am. Right under the highway. Once this dude tried to sell me a handgun that was "untraceable, in case you ever needed to off somebody". His words. I think it's the only city in America a President could get whacked…and the killer could get away.
LT: Yea, it's my home town. I like it.
ISP: How did you make your way into the adult biz?
LT: I came out with AJ Estrada. We've been room mates for two years. One night we were watching "Zack and Miri Make a Porno", and we decided we were ready for our next adventure in life: porn. We went online and found our agent, but there was one problem. I was only 17. I had to wait another month to pursue my dream of becoming a porn star.
ISP: I was waiting for the first "Zack and Miri" girl!! Is that what you want? Porn Stardom?
LT: I don't know to be honest. I just want to see how it goes, and so far it's going pretty good.
ISP: Was there anyone famous you'd like to bang when you hit porno stardom? Like Jay or Seth Rogen?
LT: I wanna bang Owen Wilson. I'd bang Matthew McConaughey, too.
ISP: Any crazy sexual encounters you'd be willing to share before you jumped into adult?
LT: When I was 16 I fucked two dudes who were brothers. New Year's Eve. They were my boyfriend's best friends. My boyfriend was upstairs at the party, and I was having a different kind of party downstairs with his best pals. Happy New Years!
ISP: What's your favorite fast food?
LT: I don't eat fast food. Shit's nasty.
ISP: Does dick size matter?
LT: Umm….yes. For me, it has to be at least…I like 'em big. If it's any smaller than 8 inches, I won't enjoy it.
ISP: Shit. That means we're doomed. You'll never like having sex with me.
LT: (Lizzie laughs. I didn't).
ISP: How many scenes you got under your belt?
LT: About 25.
ISP: Any one scene you particularly didn't like?
LT: I did a party scene one time, um, and my male talent was kinda cute. I stick my hands down to jack him off and get the scene going, and my first reaction was "Where is it?" It was seriously this big (she holds up her pinkie). I'm gonna feel so bad if the dude reads this interview. He's gonna think I'm a bitch.
ISP: How often do you meet strangers off the internet and bang them?
LT: I may be porn star, but I'm not a slut.
ISP: How do you feel about being referred to as a whore?
LT: I would say haters can hate, but I know what I am.
ISP: Whores should be everyone's favorite thing. Any hobbies?
LT: I play volleyball. I did in high school, and now I just play sand volleyball on the beach. I want to play in college…when I get there.
ISP: Why aren't you in college now?
LT: I'm focusing on my porn career and saving money. I want to pay for college with my porn money…hopefully I'll study photography and history.
ISP: That's a great idea. I hope you actually follow through and do it.