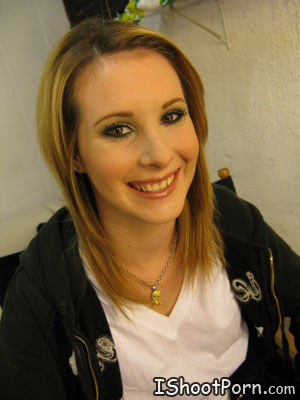 I Shoot Porn: So where did your name come from?
Tweety Valentine: My boyfriend gave it to me. I was really blonde at the time, and I'm petite, and our first date was on Valentine's Day. He gave me this necklace! (It's Tweety Bird).
Melissa The Make-up Artist: So your boyfriend named you in order to go get banged out in porn?
TV: We have a very open relationship. It's very unique.
Melissa The Make-up Artist: Did you guys talk about making porn while you're banging?
TV: It was all about him doing porn at first. Then, I got a message off mySpace from my future agent. I thought it was just nude modeling at first, and she wanted to meet me. I went to her office, we talked about it, and I went to work! My first scene was a B/B/G for Don't Tell Daddy #9.
ISP: How petite are you?
TV: I'm 4'11″. I weigh 100.
ISP: Do you Tweet, Tweety?
TV: I'm new to Twitter. Really new.
ISP: What can't I book you for?
TV: I don't do anal, and I don't swallow.
Melissa The Make-up Artist: What if you really liked your make-up that day? Would you swallow to save it?
TV: No. I don't swallow cause I gag so easily. I'm anti-cum! So don't ask how I'm in porn.
ISP: I gotta tell ya, Tweety…the Money Shots rules all in this biz. A porn girl who doesn't like cum is kinda like a race car driver who doesn't like to drive fast.
TV: I'm still new. I'm getting used to it.
ISP: So I can't book you for a 50 man bukakke?
TV: No! But I have a big ass! You can book me for something with my ass.
ISP: But you don't do anal.
TV: Just take a picture of my ass. Some people have an ass fetish…and not just putting something in it.
Melissa The Make-up Artist: Do you let your boyfriend put it in your ass?
TV: No!
Melissa The Make-up Artist: You don't want to make him happy?
TV: The pussy should be enough.
ISP: Did you have a crazy sex life before you got into the business…like did you ever do a threesome or a gangbang?
TV: I've done threesomes.
ISP: B/B/G threesomes, or B/G/G threesomes?
TV: The first was with two girls and a boy. I was drunk. I was 17, and I was with my best friend. We were just hanging out a guy friend's house. He was a black guy, and she was black. We kinda started making out, and then he started making out with the girl, and the next thing you know clothes are off. I started blowing him, then we started banging. He took turns fucking me and her. But there was drama. He kept banging me, and she got jealous. Pretty soon him and me were going at it, and she just just kinda there. Next thing you know she's crying and pulling him off me. I just ended up trying to talk to her, and he ended up passing out.
ISP: What's in your fridge right now?
TV: Beer, oranges, weed, yogurt, water…I think that's it.
ISP: If a penis could ejaculate anything other than semen, what do you want for your money shot?
TV: Chocolate. I'm a chocolate freak.
ISP: You like your men black, don't you?
TV: Yes.
Melissa The Make-up Artist: What is it about black men you like?
TV: For one thing they have big dicks.
Melissa The Make-up Artist: So you're a size queen!
TV: Yea. And I like the way they carry themselves. The swag they have.
ISP: Do you parents know about your new occupation?
TV: Yea — my mom does.
ISP: What was mom's reaction?
TV: Well, I kinda slowly told her. Like, I told her I was doing a nude shoot, but she didn't know it was straight up porn. And she wanted to see pictures of that shoot, so I just told her. When I did, she just said she wants me to be professional about it. She just doesn't want me to be on drugs or booze.
ISP: Does she have any sort of game plan mapped out for the year?
TV: I want to make a name for myself.
Melissa The Make-up Artist: Do you think you're going to have to start liking cum in order for that to happen?
TV: Yes. As I do more scenes, I'll get used to it. I'm just starting to get into the flow of things.
ISP: How about I drop a load down your throat to get that flow started?
TV: Call me in three months.