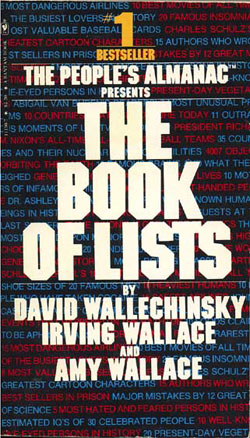 I love lists.
I think I've mentioned this before. When I was a kid, and we'd go on family trips to Florida, I'd lay in the back of my dad's van and read Wallace and Wallechinsky's The Book of Lists. It's funny, cause looking back, I realize reading that book was my earliest exercise in critical thinking. It was more than just flipping through weird lists of odd things. For me, it was wondering: why do people hate Nixon more than Hitler? What are the 10 words you can't pronounce correctly? And can I pronounce them? Which world leaders were assassinated…and why? And why in the world does it take an elephant so long to have a baby, when it only takes a possum a few weeks to do it?
I was entertained for hours.
And when I was bored with the book, I'd beat my little sister up. Or sit on her face and fart.
Before they went out of business, Tower Records published a totally worthless magazine, but I always picked it up, cause the first few pages featured "Desert Island Discs", which were nothing more than readers' top 10 records they had to have if they were stuck on a deserted island. Silly, of course, cause a deserted island would never have a stereo system — let alone an electrical outlet for your record player — but the reader lists made for some might fun reading.
And, for me, the lists always boiled down to a reaction that went something like this: what a dumb ass! He ranked Tusk higher than The White Album!! Fucking faggot!!!
In 1987, Rolling Stone made their first top 100 ever list, and I remember Sgt. Peppers being #1, and Never Mind The Bollocks being #2, and that made sense to me…then they fucked almost everything up.
That Rolling Stone issue also had the famous photograph Bob Gruen snapped of The Pistols…the one where they were ticking straws in their ears at the diner table. Or maybe it was John Rotten sticking his straw into Sid's ear. (I had to look at that picture one more time to remember it correctly, cause it's been about that long since I last saw it…and guess what! You can buy a copy!)
Just recently NME published their top 100, and it's simply god awful. And if you thought NME's was bad, get a load of this.
Both are bad…to a degree, of course.
Cause lists like this are published to do nothing more than make you read them and think things like what a dumb ass! They ranked an Oasis record higher than Sgt. Peppers! Fucking faggots!! And where's Jim Hendrix?! And there's two Oasis records on their top 10?! The Stone Roses?! Are you kidding me? Meatloaf is #25?! Mike Oldfield before Bob Dylan?! The Velvets are where!? Shania Twain!? NO RAMONES!!! WHAT THE FUCK IS THIS!
Before I give you NME's list, I'll give you mine, and I'll expect yours when you comment on all this mess. All this mess will, of course, include my list. And while I'm at it, a few words on my list:
1. It changes all the time. Sometimes daily, sometimes monthly.
2. I have different lists for different occasions.
a) A list to try and impress a girl.
b) A list to piss off music snobs.
c) A list to piss off a drunk.
d) A "real" list, in which I employ a certain criterion to judge all art I choose to judge…which is to say everyone has an opinion on anything any artist creates, and the only sure-fire way to accurately judge something beyond your own tastes is to judge it on how said piece of art has influenced other great artists working within a particular field…which is to say Robert Johnson should be in a pop music top 10 list, just as Marcel Duchamp needs to be on everyone's favorite artist's list, as Andy Kaufman needs to be everyone's top 10 comedian…right?
With that said, here's my top 10 best records ever, as of right now, which is to say 10 am on Tuesday morning, July 29, as I sit in my little brother's front room in Arizona, stressing over the amount of work I still have to do in order to get the rest of my shit to Los Angeles…and finally, this as a "D" list:
1. The Velvet Underground: The Velvet Underground and Nico.
2. The Stooges: Raw Power.
3. The Beatles: Revolver.
4. Miles Davis: Kind of Blue.
5. The Sex Pistols: Never Mind The Bullocks.
6. Meat Puppets: II.
7. Big Star: Big Star.
8. Van Morrison: Astral Weeks.
9. Nirvana: Nevermind.
10. Liz Phair: Exile in Guyville.
And here's NME's:
1. Oasis: Definitely Maybe 1994
2. The Beatles: The Sgt Pepper's Lonely Hearts Club Band 1967
3. The Beatles: The Revolver 1966
4. Radiohead: OK Computer 1997
5. Oasis: (What's The Story) Morning Glory? 1995
6. Nirvana: Nevermind 1991
7. The Stone Roses: The Stone Roses 1989
8. Pink Floyd: Dark Side Of The Moon 1973
9. The Smiths: The The Queen Is Dead 1986
10. Radiohead: The Bends 1995
11. U2: The Joshua Tree 1987
12. The Clash: The London Calling 1979
13. The Beatles: The The Beatles (White Album) 1968
14. The Beatles: The Abbey Road 1969
15. Libertines: The Up The Bracket 2002
16. The Sex Pistols: The Never Mind The Bollocks 1977
17. Led Zeppelin: Led Zeppelin IV 1971
18. David Bowie: The Rise And Fall Of Ziggy Stardust 1972
19. Queen: A Night At The Opera 1975
20. The Strokes: The Is This It 2001
21. The Killers: The Hot Fuss 2004
22. The Beach Boys: The Pet Sounds 1966
23. Jeff Buckley: Grace 1994
24. Manic Street Preachers: The Holy Bible 1994
25. Meat Loaf: Bat Out Of Hell 1977
26. Guns N' Roses: Appetite For Destruction 1987
27. Kaiser Chiefs: Employment 2005
28. The Beatles: The Rubber Soul 1965
29. Fleetwood Mac: Rumours 1977
30. The Libertines: The Libertines 2004
31. Verve: The Urban Hymns 1997
32. Green Day: American Idiot 2004
33. Coldplay: A Rush Of Blood To The Head 2002
34. Blur: Parklife 1994
35. Michael Jackson: Thriller 1982
36. Pink Floyd: The Wall 1979
37: R.E.M.: Automatic For The People 1992
38. Franz Ferdinand: Franz Ferdinand 2004
39. Mike Oldfield: Tubular Bells 1973
40. U2: Achtung Baby 1991
41. Pink Floyd: Wish You Were Here 1975
42. Rolling Stones: The Exile On Main Street 1972
43. Simon & Garfunkel: Bridge Over Troubled Water 1970
44. Led Zeppelin: Led Zeppelin II 1969
45. Blondie: Parallel Lines 1978
46. Dire Straits: Brothers In Arms 1985
47. Bob Dylan: Blood On The Tracks 1975
48. David Bowie: Hunky Dory 1971
49. Coldplay: X&Y 2005
50. The Who: Who's Next 1971
51. Keane: Hopes And Fears 2004
52. Coldplay: Parachutes 2000
53. Abba: Arrival 1976
54. Pulp: Different Class 1995
55. The Velvet Underground: The Velvet Underground + Nico 1967
56. Love: Forever Changes 1967
57. Marvin Gaye: What's Going On 1971
58. The Rolling Stones: The Let It Bleed 1969
59. The White Stripes: The Elephant 2003
60. The Pixies: Doolittle 1989
61. Muse: Absolution 2003
62. Elton John: Goodbye Yellow Brick Road 1973
63. Queen: Sheer Heart Attack 1974
64. Shania Twain: Come On Over 1997
65. Prince: Sign O' The Times 1987
66. Pearl Jam: Ten 1991
67. Kasabian: Kasabian 2004
68. Green Day: Dookie 1994
69. Muse: Origin Of Symmetry 2001
70. Kate Bush: Hounds Of Love 1985
71. Bob Dylan: Blonde On Blonde 1966
72. The Jam: All Mod Cons 1978
73. Joni Mitchell: Blue 1971
74. The White Stripes: White Blood Cells 2001
75. Suede: Dog Man Star 1994
76. Metallica: Metallica (Black Album) 1991
77. Human League: Dare! 1981
78. Joy Division: Closer 1980
79. Nirvana: In Utero 1993
80. AC/DC: Back In Black 1980
81. Arcade Fire: Funeral 2004
82. Razorlight: Up All Night 2004
83. Madonna: Ray Of Light 1998
84. Bruce Springsteen: Born To Run 1975
85. Led Zeppelin: Physical Graffiti 1975
86. Arctic Monkeys: Whatever People Say I Am, That's What I'm Not 2006
87. Queen: A Day At The Races 1976
88. ABC: The Lexicon Of Love 1982
89. Spice Girls: Spice 1996
90. Depeche Mode: Violator 1990
91. Snow Patrol: Final Straw 2004
92. T. Rex: Electric Warrior 1971
93. Alanis Morissette: Jagged Little Pill 1991
94. Joy Division: Unknown Pleasures 1979
95. Radiohead: Kid A 2000
96. Electric Light Orchestra: Out Of The Blue 1977
97. The Smiths: The Smiths 1984
98. Jimi Hendrix: Electric Ladyland 1968
99. Rage Against the Machine: Rage Against The Machine 1992
100. The Eagles: Hotel California 1976