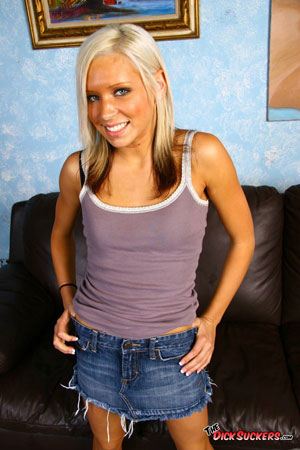 The third best scene on what's shaping up to be a phenomenal BJ site features Miss Kacey Jordan.
And yea, that last sentence is a shameless plug, because:
1) I own TheDickSuckers.
and
2) I refer to TheDickSuckers as a site that's "shaping up to be phenomenal".
But it's OK to have a little self-confidence, right?
I'm just trying to shoot the cutest girls possible while they blow a whole bunch of dick. If they're brand new to the biz, then that's even better. So let's talk about Kacey Jordan and her very first time performing a naughty, dirty, slutty act on film. That's right, I caught her fresh off the bus from the Pacific Northwest, where she used to work at a tanning salon.
Did I mention she likes to bang married dudes cause "it's not right"?
I think those were the words she used, but I can't remember now.
OK, I'll admit a simple BJ scene might get a little boring, so I decided to spice it up a bit. Personally, I love to watch women have real orgasms, and if I think, for one second, that they're faking it, well…like Johnny Rotten said at the last great Sex Pistols show, "Do you ever felt like you've been cheated?"
But what could I buy that would virtually guarantee the female talent's orgasm?
Enter The Hitachi Magic Wand Massager
Fellahs — if you wanna watch your lady cum and cum and cum, and you possess the kind of self-confidence that allows you to witness this miracle without anything coming from your end, buy one of these right now.
Ladies — if you wanna cum and cum and cum and don't give a shit whether or not a dude is responsible for the multiple orgasms this fun toy will provide, buy one of these right now.
And Amazon even sells them!
Do I need to tell you how hot it was watching Kacey Jordan cum a whole bunch on set, first before she started dick sucking, and then afterward?
She came and came and came and came.
Four times.
Then, with a load dripping from her chin, she came again.
After it was all said and done, and I handed Kacey her check, I asked her if she liked her new job.
She looked at her check, and she looked at me, and she said something like, "it would have taken me a week at the tanning salon to make this much, and all I did was suck some dick and have a bunch of orgasms. How do you think I like my job?"