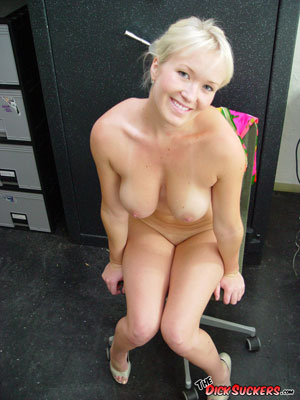 There's nothing quite as special as a porno newbie, and that's exactly what Anna Von Trap is…a total Porn Newb.
How about I one-up that statement?
There's nothing quite as special as a porno newbie who has no intentions whatsoever of ever becoming The Next Jenna; and, in fact, Porn Newb is simply a college girl who doesn't want to take out an emergency student loan but needs a little fast cash.
Enter Dick Sucker #70: Anna Von Trap.
I don't recall how she got my number, or if I got hers, and I really don't remember the conversation when we met, and then continued as we headed over to the secret Dick Suckers Studios, but it went something like this:
"Hi, I'm (real name deleted here in Anna's best interest) and I'd like to work for you."
I tell her how it all goes down.
"That's cool! Well, if you're OK with what I'm wearing now, wanna just go do this?"
I tell her absolutely.
"Who am I blowing?"
I ask her if that really matters.
"Just as long as my boyfriend doesn't find out, then no."
I tell her that once she does this, there is a chance that her boyfriend will discover her horrible, dirty secret, but I also remind her there's hundreds of thousands of dirty websites, and the chances of her boyfriend discovering anything will be pretty remote, especially since he doesn't know her stage name. I also tell her the best way to get caught is to go out this weekend with her very best friend, the one she can confide in most…the one she totally and completely trusts…the one she'd know with absolute certainty would never sell her out. Then, you'll get a little tipsy with her, and it's then you'll tell her your dirty little secret, and it will be within 24 hours from that very moment that everyone — certainly all your other friends, as well as (quite possibly) your family — will also know your dirty little secret.
"Um…OK. What's my porno name gonna be? I hear it's always your pet's name and the street you lived on."
I tell her that's totally gay, but she looks Swedish, or Scandavian, or something along those lines. "Wasn't that family that sang a whole bunch during World War Two living up in them parts of the world?"
She asked, "You're talking about The Sound of Music? You mean the Von Traps?"
"Congratulations. You're now Anna."
"I don't think there was a sister named Anna."
"Good! I won't be sued then."
So we went to the studio, and Anna Von Trapp got nude and sucked a whole bunch of dick, and the scene turned out great.
But there's 3 more I like better, which isn't anything against Anna Von Trapp.
Not one bit.
[Afterward: Anna and her boyfriend are still together, and now she won't shoot anything beyond nudes and solo scenes...but that didn't stop me from talking to her about Manojob.]