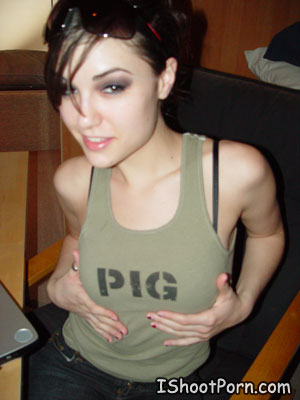 I Shoot Porn: It's your birthday today. How's it feel to be 19?
Sasha Grey: I'm glad that the 18 year old thing can no longer be applied to my scenes.
ISP: But it's just a marketing tool, right?
SG: Exactly.
ISP: What kind of guitar do you play? And can you play it well?
SG: It's a Epiphone acoustic. And I have a really shitty Strat, cause it's not a real Fender. And I can't play either one well at all.
ISP: Who's the greatest guitar player ever?
SG: I'd start with Hendrix. Then Tony Iommi, and Eric Clapton. Jimmy Page. And Billy Corghan is pretty good. Peter Hook's an amazing bass player…it's how he stylized his playing. Not really his playing, per se. It's his style and sound. You hear that a lot now.
ISP: Um…Corghan ain't no Hendrix.
SG: But he's good. And he does all the work.
ISP: So you're saying that Japanese guy in Smashing Pumpkins didn't work?
SG: You mean Jimmy? Yea, Billy did most of the work.
ISP: It's not often you have a porn actress that's into Italian neo-realism and foreign art house movies. Where'd that come from?
SG: I was always interested in film. When I was 15 I started going to an art house in Sacramento. My teacher just fed it to me. Gave me a list of movies to watch, and I did it.
ISP: Did you ever find the copy of "Salo" you were looking for?
SG: No! But Criterion's got a sister company that's reissuing it.
ISP: There's a ton of porn whores from Sac Town.
SG: I know Trina Michaels is…and Monique Alexander. Someone told me that about Monique, anyway…but I dunno.
ISP: Cherry Poppens is from Sacremento. And so is Kaycee Dean…just off the top of my head.
SG: I haven't heard of them.
ISP: Where do you want to go with porn… beyond porn. And what do you see Sasha Grey doing 5 years from now?
SG: I want to direct movies of my own. In five years I see myself doing that, and maybe still directing. Also traveling the world and making films.
ISP: You mean serious film?
SG: Yes. Indie films.
ISP: Can porn be art?
SG: Of course it can!
ISP: I totally disagree with you. But don't get me started. What's the dumbest thing a director's asked you to do?
SG: Oh god! There's many of those! Um, I had to fuck this ridiculously large dildo. And pretend it was a real cock. They're nice people, but it's a fake dick.
ISP: Yea, that's dumb. At Blacks On Blondes we only use the real thing. Did you like your birthday present today?
SG: Yes! I did. It was very fulfilling!
ISP: What do you got to plug?
SG: Sasha Gray dot com — of course!