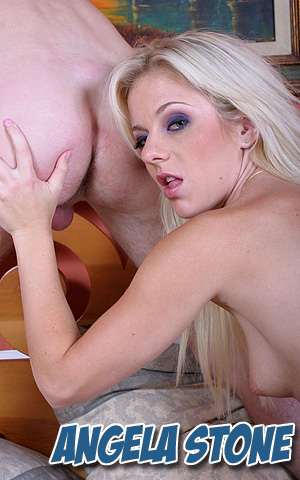 We were putting together what would be the initial scenes for our newest site – Eat Some Ass – and we needed our female talent to be strong…that is to say, not squeemish about things like putting their tounges up a dude's ass.
I was checking out Angela Stone on her agent's site cause she had a good reputation for putting on a strong scene, and I liked her trashy blonde look. Her agent said she's absolutely love to eat some man ass, so I booked her immediately.
I had no idea she had the ability to make her pussy squirt like a firehose.
I won't even bother with the sordid details of her fucking and sucking; Angela Stone did so like a champ. I won't even really bother with the ass eating details, either. I mean I could…she lapped the male talent's bung hole like a thristy dog over a bowl of water.
It's just that I had no idea she had the ability to make her pussy squirt like a firehose.
The first time it happened, I thought to myself whoa, did she just make her pussy squirt? I mean it was a squirt, but not a huge squirt…more like she might have leaked out a Number One in all the excitement.
I kept my mouth shut and let the camera rool as she sucked dick.
The second squirt was the firehosesque squirt, and it blasted all the way across the room: it went all over the bed, my camera, me, Angela, the male talent…
Firehoseque.
I think I just invented a word.
Angela's third squirt was more like her first, and by that time she was so exasperated it was good the scene was coming to The Money Shot.
My ex claims she can squirt, and I'll admit she a soaking wet pussy…but she didn't squirt.
Angela Stone's vagina squirts, and let me make this perfectly clear: it ain't Number One. I know…I pulled the bedding off and hauled it to the dirty hamper, and on the way I snuck a whiff or two.
Nope to urine, pee-pee, and Number One. 100% pussy juice, my friend.
That bedding was soaked, and not a hint of anything that smelled like anything…which is my fancy way of saying the bedding didn't smell.
I've seen this phenom more than once…but no more than 5 times. Once or twice it happened at Dogfart's secret mansion while filming scenes for Blacks On Blondes…I think the Friday scene, in particular, caught her squirting. (But I'd never really had the chance to inspect the aftermath like I did after Angela's performance.) I've seen it once or twice in my private life, too. My pal A. claimed to have the ability to make "any girl" squirt, and he did so once in front of me at The Producer's house…she was a stripper and she even let me practice on her while A coached me on…but I didn't make her squirt.
It's all in the finger motion; it's more like a the way your mom put her finger up when she was pissed and motioned for you to "come here" than it is like the way most of us dopes finger a chick – that penis-like pistion finger fucking action.
After A's help and the stripper who was kind enough to let me practice on her, I've tried, and tried, and tried…and while I've made a few girls' eyes roll up into the back of their heads, and I've made some of them make moaning sounds like cows in heat, I've never made any of them squirt.
But it's really something to see.